Review of Famous Maker 500 Thread Count Egyptian Extra Warm White Goose Down Comforter
Update: After more than a year my comforter has started to lose feathers through the stitching. I can no longer recommend this product and would advise that you stay away from this brand.
As an alternative in this same price range, check out this list of goose down comforters around the $100 range.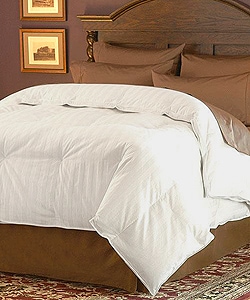 I just can't resist
buying down comforters on sale
.  My comforter arrived just in time for the blizzard that swept through the midwest. I was outside helping my neighbors shovel out the 14″ of snow that had piled up in just hours when the UPS truck arrived with my package. I immediately unpacked it and left the down duvet air out and expand while I continued shoveling. I wasn't able to test out the
white goose down filled comforter
until later that night, but when I did, my cold aching muscles sighed in relief.
I was especially excited about reviewing this comforter since it's the first down comforter that I've ever tried by this "Famous Maker". This company is known for quality goose down comforters, and other down bedding products. Even before climbing under the comforter, I could tell that this is a quality product. The fabric is a high quality 500 thread count Egyptian cotton with a striping pattern. The warmth level of this down filled comforter is "extra warm", or "winter weight".
The first thing I checked for were loose feathers and feathers that were poking through the fabric. This is a sure sign of an inferior product as overtime, the comforter will develop empty spots from all the feathers escaping through the fabric. I was happy to find that there were no poke through feathers or loose feathers on the outside of the duvet.
Next, I checked for bare spots in the down comforter where the feathers had shifted due to inferior baffle construction. Again, none were found. The feathers filled the comforter evenly and no shifting occurred even after I shook the comforter from several directions.
For the ultimate test, I slept in this comforter to see how it would feel. This comforter was absolutely perfect for the subzero temperatures outside that night. This down filled comforter provided the perfect amount of warmth, but was light enough to not feel heavy and claustrophobic.
In summary, this is a high quality winter warmth down filled comforter at a very reasonable price. I only tested it for one night and as someone who is allergic to dust mites and pet dander, I did not notice a stuffy nose or any allergic reaction to sleeping in this over sized down comforter.
The Famous Maker 500 Thread Count Egyptian Extra Warm White Goose Down Comforter is available in Twin, Full/Queen, and King sizes and is over sized by 20 percent. This comforter is dry clean only, so as always, you'll also want to have a duvet cover for your comforter.
I used the following link below and got a 10% discount off the already low price. All together, including shipping, I paid just several dollars over $100. Not too shabby!
--------- #1 Rated Goose Down Comforter ---------
Get an Exclusive Discount on the BEST Goose Down Comforter!